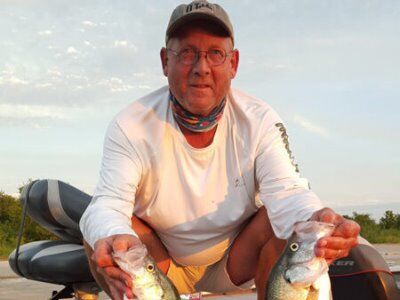 Big Billy Kinder Outdoors is an outdoor talk radio show produced by Kinder Productions, Inc. and hosted by Bill Kinder, 45 year radio veteran. Bill Kinder and his wife, Robin began their new company, Kinder Productions, Inc. in the summer of 2009 with the desire to produce an entertaining and informative outdoor talk radio show unlike any on the air and a desire to commit their work to the Lord Jesus Christ.
Show Links:
---
Big Billy Kinder is a native Texan. Born and raised in Palo Pinto County, Billy like many native Texans, was hunting and fishing from the very age that he could safely shoot a gun or cast a hook. That starts real early around here! From crappie and bass in the native lakes around home to sailfish in the Atlantic, gulf species, and Pacific spear fishing, "it's all a fish and a hook and a bait and the Good Lord's gifts that make each adventure so special."
Deer, quail, and turkey were all major influences in Big Billy's youth. They still are! "Hunting Texas quail is still my favorite!" As a youngster, he would listen for a whistle and walk them up, but for the past twenty years he's been behind some of the best bird dogs in the country! "Since my first trip behind well bred and trained dogs, that has been my passion!" Big Billy has grown his love of these dogs into champion field trialers and tremendous upland bird hunters. He has hauled his dogs to championship field trials and tremendous hunts from coast to coast and border to border. His champion Brittany, Bear won the 2010 National Shoot to Retrieve Regional Championship.