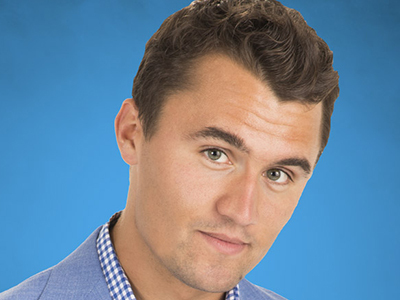 Charlie Kirk is the next big thing in conservative talk radio and he's now hosting a daily radio show called "The Charlie Kirk Show" on the Salem Radio Network.
The radio show can be heard on great talk radio stations all over the country. He also airs a daily podcast of the same name, which has become one of the top 10 news shows on Apple New Podcast rankings.
Show Links:
---
Charlie Kirk is the Founder and President of Turning Point USA, the largest and fastest-growing conservative youth activist organization in the country with over 250,000 student members, over 450 full and part-time staff, and a presence on over 2,000 high school and college campuses nationwide. Charlie is also the Chairman of Students for Trump, which aims to activate one million new college voters on campuses in battleground states in the lead up to the 2020 presidential election. His social media reaches over 100 million people per month and according to Axios, he is one of the "top 10 most engaged" Twitter handles in the world. Charlie is the host of "The Charlie Kirk Show" podcast, which regularly ranks among the top 10 news shows on Apple podcast charts, and as of October 2020, Charlie became the host of the new, nationally syndicated daily radio show by the same name and broadcast on the Salem Radio Network live from 12 – 3 PM ET.
---
Friday, June 18, 2021
#CharlieKirk.
---
China is attempting to lead the world to believe the Wuhan Institute of Virology deserves a Nobel Prize for Medicine. Chinese state-run media explained, "The award is mainly given to individuals or research groups who have made or demonstrated significant achievements in the past five years."
China's F...