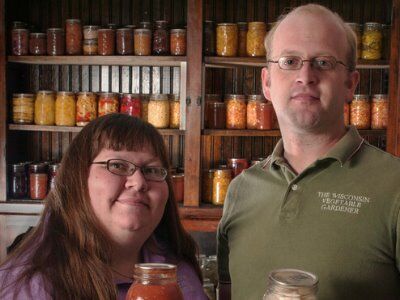 The Gardening with Joey and Holly radio show is a radio program unlike other garden talk shows, it's focus is to bring gardeners of all levels together, to help gardens grow better, to have healthier trees, maintained landscapes and yards, indoors and out plus preserving what is grown. The show is content based and topic driven. Call the show anytime with your garden, landscape and tree questions 24/7 at 1-800-927-7469 1-800-927-SHOW.
Show Links:
---
Joey and Holly Baird are in their 4th season of The Wisconsin Vegetable Gardener Radio Show. The show in 2020 airs weekly on 15 different radio stations in 9 different markets all over the US March – October.
They are a married couple living in southeastern Wisconsin (just outside of Milwaukee). In addition to the radio show, Joey & Holly make videos on youtube about how to grow your own food organically, reusing found items (or items you may just throw away), what to do with the food you grow, home canning and simple home living. They have over 1,650 videos here and on youtube
They grow in the ground, raised beds, straw bales, containers and indoor herbs.From seed starting to canning they cover it all.
Their goal through their radio show, videos, and social media pages is to show the average person how easy it is to grow food, store food, and reuse everyday items. Joey and Holly enjoy giving gardening talks at libraries, expos, garden clubs and other events around the Midwest. Their motto is "grow with us". Holly is also an award winning home canner with a handful of ribbons from the Wisconsin State Fair including a Best of Show award for her home canning talents.
If you find this interesting and have any questions or would like to talk further we can be emailed at [email protected]
Please check out our videos, posts and even feel free to leave comments.
Whether you live in Wisconsin or not you are welcome to our page.