Rob Campbell and Amanda Suffecool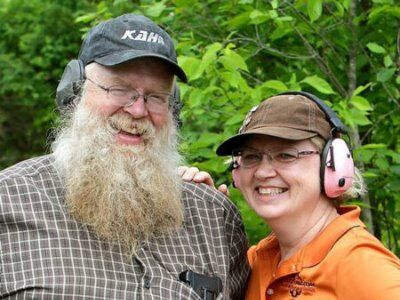 Eye On The Target Radio is a live variety show with news, listener calls, and guests. Favorite topics include self-defense for women, self-defense training, historic firearms, and current gun laws.
Show Links:
Hosts Rob Campbell and Amanda Suffecool are brother and sister, and their sibling rivalry is part of their signature style. Listeners love to pick sides, and join in the fun. Amanda, being the younger yet somewhat bossy part of the team, provides the energy and Rob provides the true gun geek technical. Both have a mechanical mind, and use it to share, discuss and explain why they think the way they do.
They are third generation gun geeks. Their father was an extreme gun collector of Ruger .357's and their mother taught Hunters Safety Education. They have early memories of walking the trap field with their grandfather – picking up once shot wads – to clean and reload. Somehow Grampy Dean convinced them both that running the reloading machine was great fun. Amanda likes to tell that Rob's first book was the Dixie Gunworks Catalog.